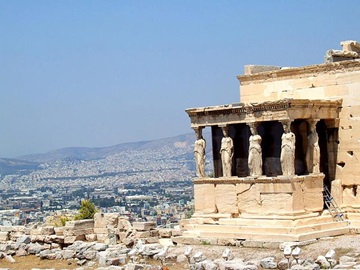 Athens

Athens is the beautiful Greek capital situated in the Attica's basin. It is a huge urban centre that stretches across the plain of Attica, overlooking the Aegean Sea for 20 km and then stretch inland to other 30km. Athens is a city with great tourist attraction thanks to its Mediterranean climate consisting of warm, sunny summers and mild winters, with its fascinating history and also for its nightlife. It is one of the European cities with the highest number of sunny days. Peculiarities of Athens is, in addition to being recognized for its long history, can be appreciated for its busy life by big centre social-economic but also political and artistic.
How to get?

Athens is easily accessible by air, thanks to its international airport Eleftherios Venizelos. This airport is perfectly connected to many European cities and served by many airlines company. Once arrived in the Greek territory is useful and advisable to rent a car to scrutinize well all the attractions in the area. You can start with the rental car directly from the airport which is about 30 km from the centre. Once you reach the centre there is a wide choice of what to visit. You can choose between the sea, the hills and also among the historical sites. Do not lose is the visit to the Acropolis, this is an archaeological site that is located on top of a hill, very popular with tourists are the districts of Plaka, the districts of Monastiraki and the districts of Thisio, and, for the younger ones, are recommended instead the districts of Psiri and Gazi .
Renting a car might be an ideal choice for visiting Athens, but also all the adjacent territory, in all its splendour.
How can I hire a car?
It's that simple. Just go to the website rent.it and make a reservation, then pick up your car at the airport. The documents required to be presented in order to have the car are:
• A valid identity document
• Valid driving license presented in original
• Credit card (has to be registered to the person who will drive the car)