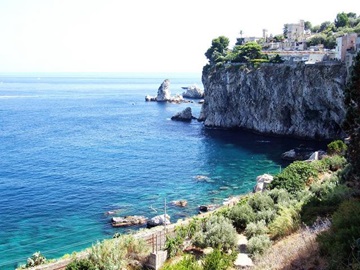 The third largest city in Sicily, Messina is one of the island's main ports. It is surrounded by the imposing Peloritan Mountains and has many beautiful attractions for travellers.

In the city itself, there is the historic Cathedral, renowned for its mosaics, chapel and tombs. Also of note is the San Ranieri lighthouse in the main port. South of Messina is Taormina, a town famous for its beaches and coastal scenery. Beyond this is Mount Etna, the world-famous active volcano.

Travelling to Messina is easy. Reggio di Calabria Airport on the mainland is the closest and visitors can easily pick up a rental car from here. Many companies offer this service, so a car rental broker such as Rent.it may help to find the best deal.

From the airport, it is only a short drive to Reggio to catch a ferry across to Messina. From the city, the A18 coastal road runs south from the port to Taormina, revealing some stunning views of the cliffs and the mountains. Past Taormina is the S120 road running inland, leading towards Mount Etna and the far side of the Peloritan Mountains. Both offer breathtaking views of the valleys and peaks that typify Messina.