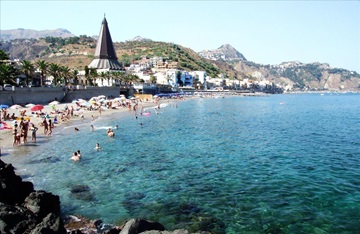 Giardini Naxos is a small, Sicilian town on the coast of the Ionian Sea. In recent years, it has become a popular tourist destination because of its idyllic surroundings and beautiful beaches.
Giardini Naxos has a long history, and the town itself features interesting sites such as a sixteenth century castle, and the Vignazza watchtower, which was used to look out for Barbary corsairs. There are also several old churches that can be found as you wander the narrow, cobbled roads. The beaches are a major draw, of course, and people often camp on the sand during the summer.
The landscape around Giardini Naxos is gorgeous, and renting a car is the perfect way to explore this scenic corner of Sicily. You can drive into the hills to visit the town of Taormina, famous for its beautiful architecture and ancient Greek theatre, or you can drive to the Naxos excavations, the ruins of an ancient Greek colony. Giardini Naxos is also conveniently close to the Parco dell'Etna, and Mount Etna itself, Europe's highest volcano.
You can visit Rent.it to arrange for a car rental in Giardini Naxos, and avoid the stress of having to look for one when you arrive. With a rental car at your disposal, Giardini Naxos is the perfect base for a Sicilian adventure.