---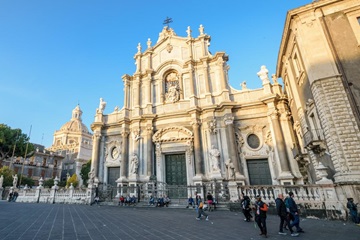 Catania - Sicily (photo Rent.it)Almost touching the toe of Italy's boot shape lies a roughly triangular island that looks as if the boot is about to kick it. Don't let the map image fool you, though: Sicily is one of the most fascinating places in Italy. With six UNESCO World Heritage Sites, several other important archaeological and historical sites, bustling cities and villages full of character, a ruggedly beautiful landscape and lovely weather, it's no wonder that the island is a popular tourist destination.
Sicily has several airports and depending on your airline and where you're flying from, you'll probably land at Catania-Fontanarossa Airport on the east coast, Comiso-Ragusa Airport in the south or, in the western part of the island, Palermo International Airport or Trapani-Birgi Airport. From any of these airports it's fairly easy to drive to anywhere in Sicily within a couple of hours. While the island has an excellent public-transport system, you'll have much more freedom in a rented car.
You're spoilt for choice when it comes to things to see and do in Sicily. Catania, for instance, is a lively city with stunning baroque architecture. It lies at the foot of Mount Etna, an active volcano that you can hike up to.
A drive southwards along the coast will take you to Syracuse with its ancient Greek ruins. From here, go westward to Ragusa, another treasure trove of medieval and baroque buildings. Near Ragusa you'll also find fantastic beaches. Cut northwards to Piazza Armerina, home of the world's largest collection of surviving Roman mosaics, at Villa del Casale. Head back down to the coast where, at Agrigento, you'll find the famous Greek temples of the Valle dei Templi.
A trip north-westwards along the coast will take you to Marsala, home of the dessert wine. Trapani lies a little to the north. From there, head back eastwards towards Palermo, but be sure to stop at San Vito la Capo along the way. Here you'll find one of Sicily's most breath-taking beaches. Palermo is the Sicilian capital and famed for its Norman architecture. It's also home to one of Italy's more macabre attractions, the Catacombe dei Cappuccini. Here you'll see the mummified remains of about 8,000 people, still fully clothed and some of them frighteningly lifelike. If you have children, remember that the sight of so many skeletal bodies can be the stuff of nightmares.
About halfway between Messina and Catania lies Taormina with its ancient theatre, which still hosts performances. If you're a movie buff, head a few miles northwards along the coast to Savoca and Forza D'argo. Parts of The Godfather were filmed here. Several famous films were made in Sicily, among them Cinema Paradiso, which was shot in Bagheria and Cefalù near Palermo.
A great way to rent a car in Sicily is to book it online with Rent.it. They will arrange the best deal for you with one of the car rental companies operating on the island and have it delivered to you when you arrive at the airport. Remember to request a model with plenty of space since you'll want to stock up on Sicily's delectable foods and wines along the way.